Happy Belated Fourth of July! I hope you found a cool spot to watch the fireworks! We enjoyed our local display last night...they were giving out color-refracting glasses and I have to say, it was pretty cool to watch! I had to laugh when the kids kept saying we were watching the fireworks in "3D"!
Here is my July Currently....
I discovered Pete the Cat this year....isn't he great? If you haven't checked him out, you really should! Maybe my "wanting" should have been the $50 stuffed animal of him! Definitely going on my Christmas list!
As for Responsive Classroom, I just got back from a fabulous conference in Delaware. We started implementing this in our school this year, and I am a definite fan! In fact, I'm going to start sharing with you some of the things I learned in my week away. I'll probably break it down into a couple different posts, but I am such a firm believer in this method, I feel the need to share the love! :)
As for the classroom....yeah, you can relate, right? A friend of mine retired and left me all her things. While they are WONDERFUL, I have to admit...I'm a classroom hoarder. It's only made my addiction worse! Maybe they'll feature me on a special edition of Teacher Hoarders? :) Just kidding! Stay cool and stay tuned for the upcoming posts!
Be sure to link up with Farley and don't forget the special rule of 3 this month!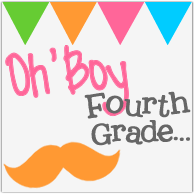 I'm also linking up with Teaching Blog Addicts and Kreative in Kinder for the "International Blog Hopping Day" freebie!
I'm offering my "Help Baby Seahorse Find his Way Home" which is available through my TpT Store! Students roll two dot cubes and add up the dots, finding the number on the grid and covering it up. It's a two player game and the first player to cover up his/her board gets the seahorse home first! Be sure to click on the seahorse to download!